Jacob A. Theodore Wendell (April 12, 1823-November 25, 1879) moved with his family from Albany, New York, at age three. After an excellent education, he turned his efforts to the commercial world and was instrumental in developing the Island and surrounding communities. Mr. Wendell served many years in the Michigan Legislature in both houses and was the customs collector on Mackinac Island and the county's supervisor. A self-made man, Mr. Wendell's wealth was primarily in real estate. In 1869, he married Miss Annie Marie Hale of Washington DC, and together, they made this house a home while they raised their family of three girls.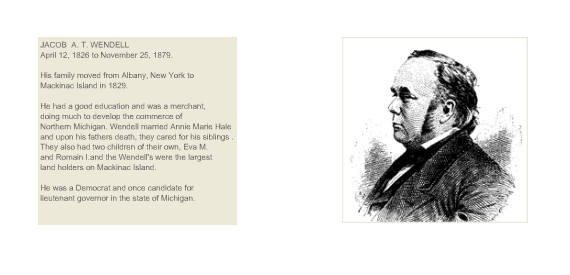 Federal Style Architecture
Built during the end of the Federal Era, Jacob Wendell House reflects the nationalist aspirations of the time architecturally. The founders of the United States consciously chose to associate the nation with the ancient democracies of Greece and Rome. This was a deliberate and marked contrast with the Gothic style used for many English public buildings and associated with feudalism. Federal style takes influence from the Georgian Neoclassical style but differs in its use of plainer surfaces with attenuated detail; it was most influenced by the Adam style, an interpretation of Ancient Roman architecture fashionable after the unearthing of Pompeii and Herculaneum.